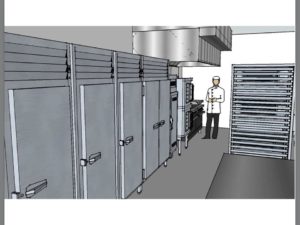 Thank you Curtis Restaurant Supply for the in-kind donation of kitchen images and professional design prints valued at $4,000- our first donor toward this project.
Community Food for Creswell oversees the Creswell Food Pantry, located at the City of Creswell's Cobalt Activity Center since October 2013. As a partner agency of Food for Lane County and the Oregon Food Bank, we provide free emergency food boxes to an average of 170 families each month. With a recently updated lease agreement, we are now preparing to add a meal site program in partnership with Food for Lane County and the Creswell School District. Area middle school and high school students will be invited to take part in meal preparation and serving, gaining employable skills and obtaining community service hours toward high school graduation requirements.
Entrepreneurs and farmers will affordably rent our community-use commercial kitchen to create value added products, to grow their businesses. The site fee will cover our utility costs and allow us to hire a part-time kitchen manager.
Additionally, we will facilitate a variety of cooking classes:
Master Food Preserver volunteers will teach adults to affordably preserve nutritious produce for use throughout the year, promoting home gardening and potentially supporting farmers in our
rural community.

Food for Lane County volunteers will provide Cooking Matters courses for adults and children. Kids ages 7-11 will learn basic self-sufficiency in the kitchen. Adult classes will focus on essential cooking skills, nutrition labels, and shopping for high-quality food with a limited income.

Community Food for Creswell volunteers will provide monthly evening classes for our food pantry customers, providing tips to preparing meals using the foods that are distributed in our
facility, such as dried beans and seasonal produce.

The board of Community Food for Creswell is very pleased to expand our community outreach with this new incubator kitchen. In doing so, we will be impacting hunger, providing nutrition education, teaching youth life skills, and promoting the growth of our local economy.